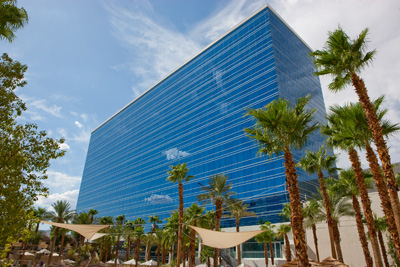 The Hard Rock Hotel and Casino features a full-size gaming area, intense concerts, a plethora of dining and nightlife options, a full-service spa, and a large pool area. The hotel is 2 miles from the Strip and Convention Center, and 2 miles north of McCarran Airport.
Guests at this Las Vegas hotel can gamble in the casino, enjoy 6 restaurants and 4 lounges, catch headline performers at rock venue "The Joint," and dance at the new night club "Vanity."
Guestrooms contain platform beds with leather headboards and premium bedding, 42-inch plasma-screen TVs, and CD players. Walls are decorated with photos of rock icons. Windows open to the desert air.

Hotel Address:
4455 Paradise Road, Las Vegas, NV 89109
Property Phone # for inquiries: (702) 693-5000

BRG claim valid for:
Valid Dates:
Many summer dates found!
(Sample dates include: 6/22, 7/8, 7/20, 7/29, 8/10)
Room Details:
Many room types to choose from, including the new HRH Tower rooms. Listed below is the most basic and most expensive room type.
Rate Variation
(for sample date 7/20):
Travelocity - $48.30 / Expedia - $50.23 (Casino Tower/Mt. View)
Travelocity - $118.30 / Expedia - $123.03 (HRH Tower/Corner King)
Book this BRG using the link(s) below: